E-mailmarketing
E-mailmarketing stelt bedrijven in staat contact te onderhouden met hun prospects en klanten, met als doel te informeren, deals te promoten of nieuwe diensten aan te kondigen. In toenemende mate gebeurt dit gepersonaliseerd (persoonlijk geadresseerd), maar inhoudelijk is het vaak nog niet echt relevant voor de ontvanger. E-mailmarketing is nog steeds populair, marketeers hebben aangegeven zelfs nog meer hierin te willen gaan investeren. E-mailmarketing is vooral een echte 'zend' tool.
Marketing Automation
Marketing automation is veel uitgebreider, maar is ook bedoeld ter ondersteuning van een heel ander proces. Bij Marketing Automation gaat het erom de hele keten van online interacties van een prospect te tracken, op dynamische wijze wordt zo een uitgebreid profiel opgebouwd.
Hierdoor ben je vervolgens in staat een geautomatiseerde dialoog uit te voeren, gebaseerd op gedrag (zowel impliciet als expliciet). Als iemand A1 + B2 doet, dan wordt C de vervolgactie (lees hier meer over Lead scoring enLead Nurturing).
E-mailmarketing gaat in dat opzicht niet verder dan het registreren van de interactie binnen een campagne, zoals het openen van een e-mail of clicks, maar doet verder niets met de feedback. Marketing automation is in tegenstelling tot e-mailmarketing meer een 'luistertool' en past dan ook heel goed binnen een inbound- of contentmarketing strategie.
E-mail is een kanaaloplossing. Marketing automation is dat juist niet. De kracht van marketing automation zit juist in het convergeren van de verschillende kanalen en hier consistentie en relevantie binnen te organiseren, waarbij de klant centraal staat.
Marketing Automation kan integreren met:
Website

Social Media

Apps

SMS

E-mail

Telefonie (support / service centers)

iBeacon (B2C)

Point of Sale (B2C)
Enkele e-mailproviders zijn onlangs ook actief geworden met marketing automation, als vervolg op of als verlengstuk op hun email-activiteiten. Ik voel de neiging om hier waakzaam voor te zijn. E-mail is een kanaal binnen marketing automation absoluut een belangrijk onderdeel, maar eigenlijk hebben die twee verder totaal niets met elkaar van doen.
Vergelijk e-mailmarketing versus marketing automation: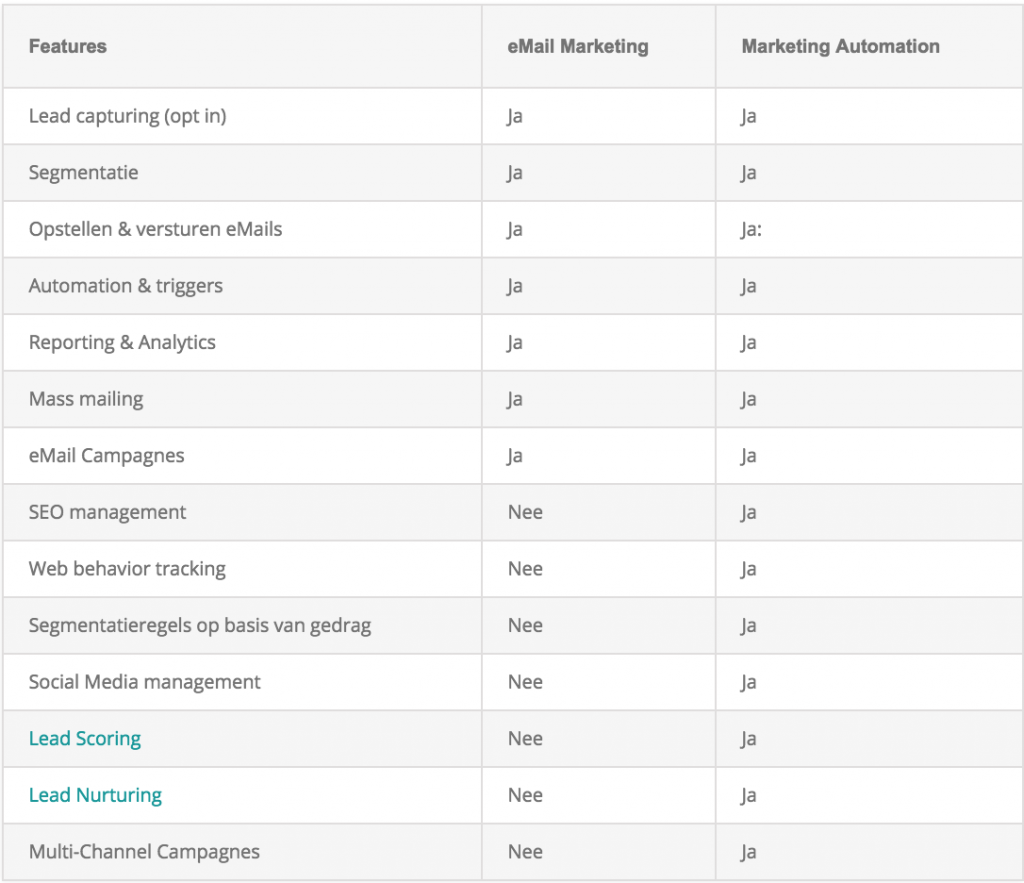 Marketing Automation is iets voor jou wanneer:
De Buyer Journey langer dan een week is (vaak weken tot enkele maanden)

Je uitgebreide en intelligente webforms & landingspagina's wilt gebruiken

Je meerdere producten binnen meerdere markten verkoopt

Je de lead to sales conversie aanzienlijk wilt verhogen
Conclusie:
E-mailmarketing software is de juiste keuze wanneer het vooral gaat om het periodiek informeren van relaties. Het is echter niet de aangewezen oplossing om te ondersteunen in een complex en gefragmenteerd aankoopproces (de Buyer Journey). Marketing automation wordt daarom dan ook nu nog vooral binnen de B2B-markt ingezet, in mindere mate de B2C-markt, maar het zou mij niet verbazen als dat binnenkort gaat veranderen.
Wellicht al snel, daar marketing automation nu al niet meer alleen voor leadgeneratie wordt ingezet, maar ook voor de gehele customer lifecycle. Bijvoorbeeld voor het leveren van trainingsmateriaal voor opleidingen, het managen van service levels en het monitoren van customer satisfaction.
Marketing automation is een bijzonder krachtige en efficiente oplossing voor het omzetten van anonieme online bezoekers naar prospects en uiteindelijk naar kwalitatief goede leads en klanten op basis van hun gedrag en behoefte.
Laat u nu adviseren door één van onze consultants
Bron: Emerce