WE MAKE YOUR LIFE BETTER
Lead management
2MARK-IT has started & grown its business in telemarketing and added inbound marketing services to it. Supporting our customers in the most knowledgeable and effective way we can, these services are now part of a hybrid approach, what we call ' lead management & digital selling '. Customers use more then one channel, it covers all practical and multi channel output of objectives determined in your sales & marketing strategy.
How to get (early) Positioned as professional sales in the Customer Decision Process (CDP) of a potential stakeholder(s) and how to get them Interested in your products/services and Convert that lead into a customer?
You need to have relevant presence in social selling platforms like LinkedIn, where according to Forrester, 100% of the present decision makers are with business reasons! Make sure you get the Attention of potential new decision-makers in these competitive markets and use the digital effective roadmap!
This is not an easy, but a complex high demanding process. To help you, we've designed the following proven lead management process.
Opportunity tracking
Opportunity tracking is a proven program and methodology, via which we will approach, validate and convert relevant decision makers into marketing qualified leads.
A lead process should not be a one-time shot, but a continuous process to be able to convert a lead becomes a qualified lead through planning, lead nurturing and scoring. In combination with off- and online engagement.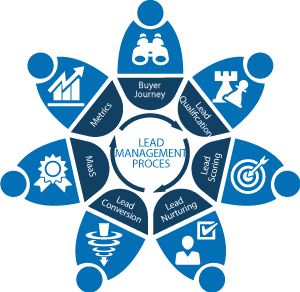 Digital Selling or Social Selling
Only using the telephone combined, general scripts and mass emails to create well qualified leads, isn't working sufficiënt.  79% of salespeople who actively engage on social media outperform their peers (source: PeopleLinx). Potential buyers expect an intelligent well prepared sales engagement process. To grab their attention via channels they use, we help our customers with a personalized digital Social Selling program (LinkedIn / Twitter).
Based on our Social Selling expertise and knowledge, we designed proven program techniques & methods, to be able to create new audiences, identify prospects, define and share relevant information and build a stable and predictable short- and long term sales pipeline. This process is designed to shorten the sales cycle!
Starting with a deep market & profile analysis and social listening techniques, we discover their – personal needs & challenges, company insights and references. With this knowledge and usage of smart tools, we are able to approach these potential stakeholders we create interest, respect and loyalty, to have the optimum starting point for a digital conversation.
Position yourself as a "thought leader" and use a high level approach to create a schedule of longterm customer meetings that will underpin your company's ability to reach its future revenue targets.
Top social sellers have 48% more opportunities per quarter than social selling laggards (source: LinkedIn)
How can Social Selling grow your business? Click here for a business case.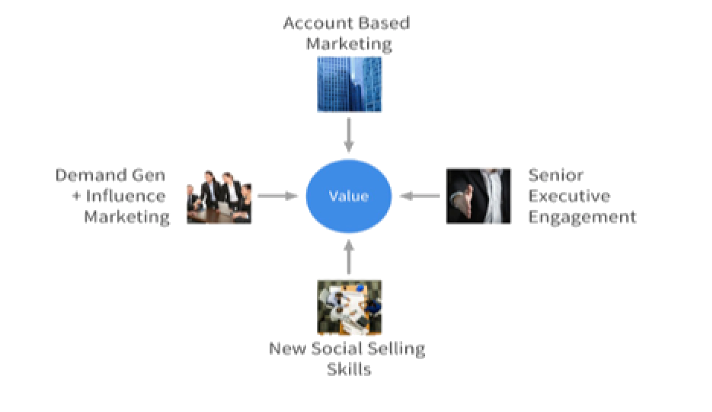 Account Based Marketing (ABM)
Remember, when it comes to closing a deal, it's rarely a single person making the decision. With Enterprise deals in particular, according to survey 8 – 12 people are typically involved in the decision making process. ABM differs from other types of marketing in that it acknowledges all of the different people and viewpoints that comprise each account.
Instead of ending with a target company that's a good fit for you to sell to (filtered out all bad leads), with ABM, you start with target companies, were you've identified the biggest opportunities.
Our proven Social selling Account Based marketing techniques & smart tools, gives you the opportunity to start engaging the right senior stakeholders, only when we've identified a serious enterprise opportunity.
Bases on a high level ABM-program
use our tools to generate an in-depth account based sales plan for these Enterprise accounts,
conduct deep level research, where we use trigger-, insight- and referral Social Selling techniques to
be able to build an audience with relevant stakeholders,
engage with outbound messages and adjusted content to generate conversations, which will lead to leads and
conversions like scheduled meetings (phone, video call's, registrations for events or face2face meetings).
Social Selling Managed Services
Based on our customer needs, we developed a (hybrid) social selling managed services solution, which will deliver a constant stream of qualified leads & opportunities, to boost monthly KPI's.  Your sales will be much more effective and spend more time to real sales and less time on prospecting!
Make sure your results will be surpassed in 2020 by building a predictable Sales Pipeline! Read here about our P.L.E.A.S.E. method.
Register for a discovery session, experience your digital sales approach and create the first new leads and new (digital) meetings.
Results
This professional digital sales approach offers the ability to achieve high level and measurable goals with your sales teams:
Account Initiative – engage with new defined major / key customer opportunities within a defined market, where a new opportunity has been identified and qualified as having sales potential.
Knowledge Transfer – our experienced consultants will coach your sales to further improve Social Selling competence and embed this in their daily sales routine.  KPI"s – drive network connections, conversations and qualified (virtual) meetings.
Social Networking Makeover – to further optimise companies strong marketing presence and amplify its brand as both a thought leader & trusted advisor.
Virtual B2B matchmaking solution
Organize your event completely online as a virtual event. With our first virtual B2B matchmaking platform, your participants can easily and quickly make personal appointments at home or at work and take part in program sessions online. A unique combination of an event platform, for events, conferences, customer days and seminars, in combination with high level personal one by one virtual meetings.
Meetings one-on-one, but not face-to-face
There are situations where participants can't meet in person. However, you don't have to cancel or postpone your event.
With the integrated virtual meeting solution from our exclusive partner, Converve, your participants can hold booked meetings online with one click, without forcing your participants to become members of third-party tools.
Different time zones are taken into account and your participants are automatically informed about the (remaining) duration of the meeting.
Click here to receive more information or have look at the virtual event platform?
GET IN TOUCH
Meeting time Schedule
Want to know more about our services? Please leave your contact details and we will get in touch as soon as possible.
Also it´s possible to call us and we will be happy to assist you.
+31 6 506 637 33